About
Meet the Salon and Spa Team!
Kaitlyn Jacobs
( Owner / Stylist )
I have had the pleasure of working at some incredible salon and spas in Denver and Fort Collins. I absolutely love the beauty industry and all aspects of the salon and spa world. I started out working at a premier spa in Denver, deepening my knowledge in esthetics and nail care. Then, I moved up to Fort Collins and found my love for hair. I trained with some of Fort Collins most known stylists for 6 years before getting the push to open my own spa and salon. This had been a dream of mine but finding the perfect time and place came right after having my first baby. My Mom stood right by me encouraging me and being the strength which today Balayage stands on. Owning Balayage with my Mom is incredibly special as well as sharing this oasis with my closest hair stylists, massage therapists and estheticians. I am extremely excited for you to experience the most elegant spa and salon in Northern Colorado.
---
---
Lindsey Weatherby
( Salon Coordinator )
I worked as an event planner at one of Denver's premier hotels before becoming a stay at home Mom. I love being back in the workforce and especially at Balayage. Interacting with clients and being surrounded by such talented women has been so great for me. When I am not at Balayage I enjoy being with my two boys and husband enjoying the outdoors. Some of our favorite activities are camping, skiing and hiking. I look forward to seeing you at the Salon or in the Spa!
---
Makenna Mclean
( Salon Coordinator )
I am currently a Senior at the University of Northern Colorado pursuing a career in Elementary Education with an endorsement in ESL. I love being around children and am excited to influence them someday. I love talking with others, traveling, spending time with my friends and family, and laughing! When I graduate, I want to continue to travel and teach somewhere abroad! Although I do not have in interest in a career with hair or beauty, I love being around the environment!
---
Brittany Friar
( Stylist )
I've had the pleasure of establishing long-lasting relationships with so many wonderful people with whom I'm so blessed to spend my days with. I have the best job in the world and I love coming into the salon each day. There is so much to learn with the never-ending changes in the beauty industry, and I strive to be the absolute best in my career! I love creating new formulas for each client to fit their individual needs, the possibilities are endless, and so is the confidence you can radiate by having the perfect hair every day!
---
I have worked at some great salons in Fort Collins. I absolutely love doing hair and making people feel great about themselves. My interest is getting more involved with the wedding industry. Styling hair for magazines, models, and fashion shows! I have grown so much in the business by learning a great deal from other stylists and classes on haircut and color techniques. I love keeping up with new trends and trying new things!
---
Kara Johnston
( Stylist )
I've been a licensed hairstylist since 2004. I love what I do; I have a true passion for the industry. The best part of my day is being able to make someone's day, we all know that when you look good you feel good! I'm continuously seeking education and staying up on what's trending. That's another perk to my job since I love fashion.
---
Kim Dixon
( Medical Aesthetic RN )
I have 20 years of nursing experience currently working in interventional radiology. I'm a lifelong learner and the past few years I have spent my time advancing in the medical aesthetic industry completing many courses at the National laser institute. My passion for aesthetics developed as the years of sun-seeking and the facade of agelessness did not correlate with my reflection in the mirror. My theory is to grow old gracefully and I am excited to be part of the Balayage team.
---
Lucy Rosario-Montoya
( Massage Therapist & Esthetician )
I have a degree in therapeutic massage and aesthetics specializing in pain management, post-op massage, oncology massage, facials, and overall relaxation. I am passionate about bringing relief and relaxation to my clients. My beliefs are that bodywork along skincare go hand and hand creating a better quality of life from the inside out.
---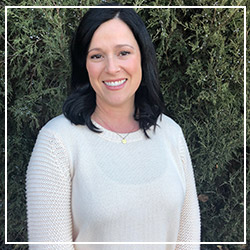 Jennifer Sailer
( Esthetician )
I have 10 years of experience in the skincare industry. I started my profession in California and am excited to bring my knowledge to Colorado! I love helping people achieve their skincare goals and educating clients on their daily skin routine. I have a passion for providing knowledge to people on how to take better care of their skin, and what treatment and products would be best for them. I absolutely love making people feel relaxed, renewed and more confident about their skin.
---
Misty McBride
( Stylist )
I recently moved to Fort Collins from Utah, we are loving the Front Range area. I have 16 years of experience in the salon industry many of those being a salon owner. As hard as it is leaving behind clientele during a move I am excited to grow my hair business here. I am married to my best friend and biggest supporter and together we have 2 girls.
Alysse Riccio
( Stylist )
---