About
Meet the Salon and Spa Team!
---
Mary Hager and Kaitlyn Jacobs
( Owners )
Mary and Kaitlyn are the ultimate Mother Daughter duo.  Mary has a background of business opening and successful ownership so there was no doubt in Kaitlyn's mind that she was the one to go to when Balayage was in the makes. Mary has been Kaitlyn's biggest supporter from the very day she mentioned going to Beauty School.  After graduating with a Cosmetology license in 2006, Mary took Kaitlyn to Paris for a celebration.  In Paris, Kaitlyn was able to shadow a stylist where he performed the Balayage hair painting technique.  From that day she knew if owning a salon would be in her future it would be named Balayage. In 2013 Kaitlyn brought a dream to her Mother and asked if she would want to become partners and open a Salon and Spa together.  It took lots of planning and discussion from where the best location would be and finding the perfect team.  Today Balayage has been opened for almost 6 years!  Kaitlyn works behind the chair as a Stylist and Mary is the business bones!  You may often find her delivering our much needed supplies and chatting with our guests.
Kaitlyn Jacobs
( Owner / Stylist )
I have had the pleasure of working at some incredible salon and spas in Denver and Fort Collins. I absolutely love the beauty industry and all aspects of the salon and spa world. I started out working at a premier spa in Denver, deepening my knowledge in esthetics and nail care. Then, I moved up to Fort Collins and found my love for hair. I trained with some of Fort Collins most known stylists for 6 years before getting the push to open my own spa and salon. This had been a dream of mine but finding the perfect time and place came right after having my first baby. My Mom stood right by me encouraging me and being the strength which today Balayage stands on. Owning Balayage with my Mom is incredibly special as well as sharing this oasis with my closest hair stylists, massage therapists and estheticians. I am extremely excited for you to experience the most elegant spa and salon in Northern Colorado.
Follow me on Instagram @kbalayageco
** Accepts The Harmony Member Card, The Little Gym Member Card, Raindance Resident Member
---
Abby Zulkoski
( Salon Coordinator )
---
---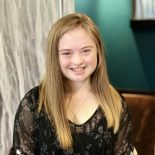 Kaeda MacMillan
( Salon Coordinator Assistant )
Kaeda first came to Balayage fulfilling her apprenticeship  with the Cooper Home. After graduating and completing the program she was offered a job as our Salon Coordinator Assistant. You will find Kaeda helping out with tasks around the salon, and brightening our days with her contagious smile and lavish style. Kaeda loves to spend time with her family, watching her brothers play sports, and drinking hot cocoa. We are so thankful to have her as an employee on our team.
---
Jennifer Sailer
( Esthetician )
I have 10 years of experience in the skincare industry. I started my profession in California and am excited to bring my knowledge to Colorado! I love helping people achieve their skincare goals and educating clients on their daily skin routine. I have a passion for providing knowledge to people on how to take better care of their skin, and what treatment and products would be best for them. I absolutely love making people feel relaxed, renewed and more confident about their skin.
**Accepts the Harmony Member Card
---
Misty McBride
( Stylist )
I recently moved to Fort Collins from Utah, we are loving the Front Range area. I have 16 years of experience in the salon industry many of those being a salon owner. As hard as it is leaving behind clientele during a move I am excited to grow my hair business here. I am married to my best friend and biggest supporter and together we have 2 girls.
Follow me on Instagram @misty.mcbride
**Accepts The Harmony Member Card
---
Angela Gillespie
( Stylist )
I've had a love for hair since the moment I could hold a brush.  My passion and positivity make every trip to the salon both fun and elevating.  My goal is to m make each individual feel like they can conquer anything after a little hair therapy.  "Life is more beautiful when you meet the right hairdresser."
---
Abbie Phillips
( Stylist )
I have been a Fort Collins stylist for several years now and absolutely love it. Helping my guests enhance the natural beauty and health of their hair is where my passion lies.  I specialize in natural – looking color and hand painted Balayage. I am always advancing my education to stay up on the current trends of the industry.  I am excited to be part of the Balayage Salon team and look forward to meeting you!
Follow me on Instagram @abbie_balayage
**Accepts The Harmony Member Card
---
Meredith Bales
( Massage Therapist)
I have practiced as a massage therapist since 2004 and I love it. My experience has helped me create an integrative style that decreases areas of tension, increase mobility and addresses areas of discomfort all while maintaining an enjoyable experience.  You don't HAVE to hurt to feel better.  I look forward to meeting you.
---